How Dangerous Is It To Have Fire Ants On My Raleigh Property?
6/15/2021
Fire ants generally prefer warmer areas, create "gopher-like" nests in sandy soil, and may develop interconnected tunnels with other colonies. These nests tend to resemble large flat mounds that can measure more than two feet. In especially warm or dry conditions, the ants will often burrow much deeper into the soil. In many cases, fire ants arrive at new properties within pots containing plants or trees that people acquire. These ants are omnivores that eat meats, vegetables, and sweets. Some of their preferences include spiders, ticks, and earthworms, regardless of whether they are alive or dead.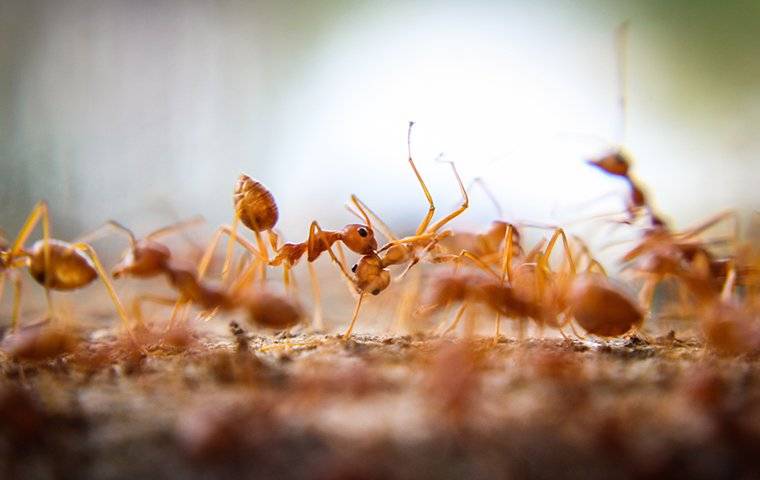 The Dangers Of Fire Ants
Fire ants commonly invade farms and gardens, particularly those that grow fruits. They commonly attack the workers tending to the fields, such as picking berries. When they build nests in yards, those who walk through might be attacked and experience a painful sting. Some people have an allergy to these stings and may have a more severe reaction. They should promptly seek medical attention.
Fire Ant Behavior And Activity
Fire ants often build their nests within soil located close to homes, and may contain hundreds of thousands of members. Certain members spend their time gathering food, and bringing it back to the nest for others. Fire ants will sometimes gain access to the interior of property by traveling through HVAC units and systems.

In many cases, a new fire ant colony will form when one has been eliminated. Some colony members migrate into others. The queen can start a new colony with a small number of members, which can grow very rapidly and expand.

Fire ants have four distinct phases of physical development. After a queen lays an egg, it transitions from larvae and pupae before reaching adulthood. Most of the adults are wingless females, and some are winged males.
Properly Responding To Intrusions From Pests
Has your home or business been infiltrated by unwanted and potentially dangerous pests? This is not the time for attempting fabled home remedies, or store-bought do-it-yourself (DIY) products that are widely promoted at local stores and online retailers. Many of these mass-marketed options are only capable of achieving short-term results that are far from reaching a real solution.

Also, many of the DIY aerosol sprays, granular formulas, traps, and baiting systems contain various potentially harmful chemicals. The best way of responding to bothersome pests is to speak with a licensed local professional that is properly equipped for resolving the problem.
Leading Local Pest Extermination Company
The experienced team of professionals at Arrest-A-Pest Exterminators has been delivering excellent results for customers in residential, commercial, military, and industrial settings for many years now. Part of our ongoing success is attributed to providing each customer with the highest-quality service in the industry. We safely and efficiently eliminate invasions by pests such as termites, fire ants, bed bugs, and others. We are active in support of the local community and are members of the North Carolina Pest Management Association (NCPMA).

We now offer special evening and emergency services for those with significant problems. Contact our office today for an onsite inspection and estimate for your Raleigh property. Remember to ask the representative about our year-round pest protection plans and discounts available for referrals, active military members, and more.