The Best Way To Keep Mosquitoes Away From Your Raleigh, NC Property
5/15/2021
If nothing else, mosquitoes are known for two things: being annoying and biting your skin. You can't be outdoors for too long without these flying bugs pestering you. They are very focused on munching on you to withdraw your blood. When all is said and done, you'll be left with loads of red and itchy bumps on your neck, arms, legs, and everywhere else. That's not the last of the issue with mosquitoes though.
Mosquitoes can transmit multiple diseases because they drink the blood of both humans and animals. With that in mind, these insects are considered to be the most dangerous on earth by medical professionals. Since they reside in natural environments, it's an uphill battle keeping them at bay. Find out how you can successfully combat them in Raleigh, NC with help from Arrest A Pest Exterminators.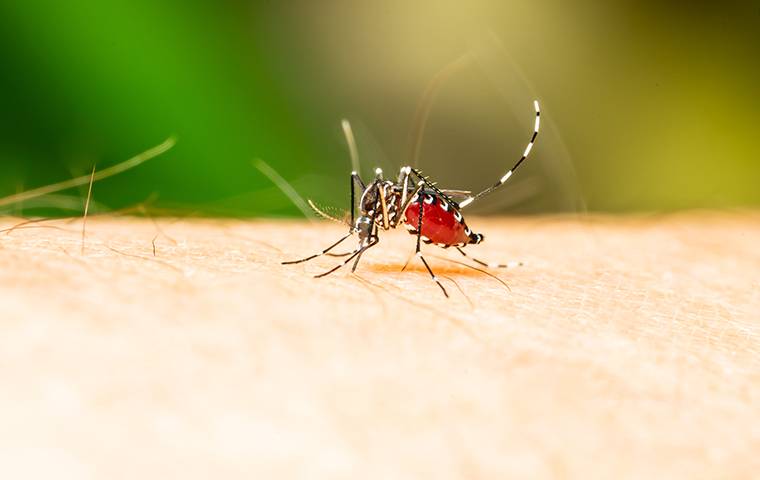 How Do Mosquitoes Function? What Are the Risks?
"Little fly" is the translation of the word mosquito. It makes perfect sense, as these pests are just 0.12 to 0.35 of an inch long. They have scaly bodies, distinct noses, thin legs, and wings. Females are the ones in hot pursuit of your blood because it boosts their egg production. All need water to live though, so they frequently gather around standing pools of it. Organisms from it are consumed by larvae. Nectar is another element the bugs eat up. Given this, stay on alert if your home or business is in proximity to plenty of greenery or a body of water. For instance, a grassland, garden, lake, or river. An approximate 3,500 species exist.
Mosquitoes will enter properties through open windows and doors, and structural holes. Then, they'll find a closet or other dark place to hide in to avoid being disturbed. Any damp areas or those with a moisture source, like a laundry room or basement, will certainly attract them as well. Seeing them around or having welts on your body validates an infestation. Key facts about some of the illnesses mosquitoes spread are:
Zika virus causes birth defects for 5% of infants.
Chikungunya is incurable and brings about fever and severe joint pain.
Dengue symptoms include rashes, fever, and nausea.
Malaria triggers sweating and chills.
80% of those with the West Nile virus are asymptomatic but could experience fatal neurological reactions.
Yellow Fever is linked to critical liver, kidney, and heart issues.
How Can Mosquitoes Be Prevented?
To discourage mosquitoes, you'll want to prioritize your exterior maintenance. Further, you'll need to be more mindful about what you ingest and wear. You can inadvertently draw the insects to you. Take the following steps:
Burn essential oil candles, such as those with peppermint and lavender.
Lay mosquito traps outdoors. Clean them on a regular basis.
Drain swimming pools and dry pet drinking bowls when not in use. This is to reduce levels of standing water.
Routinely cut the grass and trim greenery.
Get rid of organic debris from the yard.
Flush your gutters out often.
Don't wear dark shades, like black and blue. Mosquitoes have a harder time seeing lighter colors.
Exercise caution with drinking alcohol. It will seep through your pores and magnetize mosquitoes.
What Will Arrest A Pest Exterminators Do About Mosquitoes?
Many of the avenues used for mosquitoes have their shortcomings. Candles and torches, for example, emit gases that will bring mosquitoes to your property. Retail sprays can ruin vegetation, be too noxious, or work temporarily. For safe and highly effective mosquito control solutions, contact us at Arrest A Pest Exterminators. Our licensed and certified technicians will select just the right treatment plan for your situation. Evening and emergency visits are available. Guard your health and land! Call us today at Arrest A Pest Exterminators to get started!